We had a quick chat with our talented local singer/songwriter Laura Hunter, get an insight into her daily life….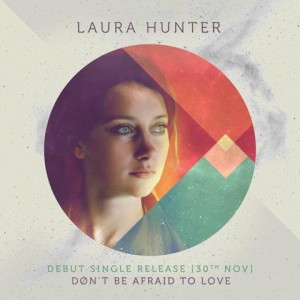 Laura, you have just moved to Sumner! What was the draw card for that?
My parents just bought a beautiful house up on Scarborough Hill overlooking Sumner and the surf, so that was a done deal for me!
What kind of music do you do? And what inspires you?
I'm a singer/songwriter, I play guitar, and do a variety of music working with my producer Lukas, from acoustic to pop, electronic, drum and bass, hip hop, country and soul. I am inspired by all music around me, especially live music. I think I will always continue writing lyrics and songs on the guitar, and perform acoustically, but also I love a more upbeat sound and have big dreams and goals to play to big festival crowds – so in this case my music will continue to develop its sound for various performances!
I hear you are working on an album… what can we expect? And where can we buy it?
Yes! Very exciting. I have just released my first Debut single 'Don't Be Afraid To Love' which you can now buy on iTunes and amplifier.co.nz. I am about to drop my second single, and have been developing music for my first album for the past year, it's a long exciting process which has been a huge learning curve. My goal is to have it out by the end of this year in conjunction with a summer tour, fingers crossed!
Can you share your insider tips for Sumner? What and where are your favorite places & spaces, must dos in Sumner??
Sumner and Taylors Mistake area is I think one of the coolest places to be in Christchurch by far. I've grown up over here, surfing and hanging out at the beach, and I will continue to do so all my life! Definitely go grab a drink or some food down at the Beach Bar, and enjoy the beautiful view all year round. The Indian is also delicious, and yummy breakfasts and coffees at Dot Com. Head out for a surf, Aaron from learn to surf will take care of those of you who want to learn, buy some sweet clothing and surf gear from Aumoana, go and watch a movie at the old school Hollywood cinema, and oohh grab a fish burger from Burger Fuel fish and chip shop! Then to walk off all that yummy food, walk the Godley Heads Track over at Taylors its next level stunning views.
The average day in Laura Hunter's life…
This summer has consisted of a very dreamy wake up, surf for a few hours, grab a coffee or a bite to eat, lie in the sun, surf or swim again, write some music, do some recording in the studio working on the development of my album, or perhaps play a live show, dinner, have another potential surf, sleep and repeat! … Although I wish this lifestyle would continue, the search for a full time job is now on, since I have recently graduated from UC.
And most importantly, where can we see you live?
You can follow all my live shows, and music releases through my musician page at facebook.com. At the moment I am playing acoustic shows at various venues such as The Beach Bar in Sumner, Cocopelli by the Palms, The Dux Live, and at various events including ArtBeat alongside other talented Fledge Musicians (Check out Fledge on Facebook). I am also currently developing my live set into a more upbeat electronic/pop sound – while still being acoustic based, Lukas and I will be playing shows such as the University Orientation Week alongside international artist Tali. We have been touring in Auckland and Northland for the past 3 months and will be continuing touring NZ when we get the chance!
Laura Hunter
0274 6484 99
www.laurahunter.co.nz