Whiteroom Ski Tuning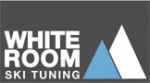 We offer a professional personalized tune for every level of skier or boarder.
At the Whiteroom we specialize in tuning to suit your skiing, snowboarding style and ability. We also deal in second hand skis, boards and all the essential accessories for the hill!
Sarah and Jordan
>>—-> Open in Winter only!
Tue to Thur 6pm – 9pm (Or by appointment).
#ski #snowboard #waxing #tuning #sumner #winter #snow