Ali Barbers Hair Stylist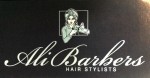 Ali Barbers Hair Stylist
Ali barbers hairstylists offer a full range of hairdressing services to men and woman of all ages. Our modern glamorous salon has heated massage shampoo basins, coffee machine and free wifi. All our stylists are seniors and are up to date with the latest and greatest hair designs, as they seek new trainings and techniques.
We now have longer opening hours to fit in with people's busy lifestyles, the salon is open Tuesdays and Thursdays 9am till 8pm,Wednesday and Fridays 8am till 6pm and Saturdays 9am till 1pm.
You can now find us on Facebook, like and share our page to be into win. "Ali barbers hair stylists"
To make an appointment call us on 3265-807 or came and see us for a free consultation at 34 Nayland street.
Open: tue 9am – 8pm, wed 8am – 6pm, thu 9am – 8pm,
fri 8am – 6pm, sat 9am – 1pm