Italian Cooking Lessons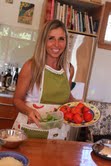 Book your authentic Italian cooking lesson now right here in Sumner!
You will enjoy learning about all our amazing Italian dishes and of course you get to eat them too!
Set in a real Italian atmosphere including a wood fired pizza oven..
4 night lessons at $25/lesson, each lesson includes dinner eating what we prepared.
Imagine…
- Basil Bruschette, Gnocchi from Sorrento
- Tagliatelle dolce capri
- Pizza margherita
- lasagne in the oven
Do you feel hungry now? ….Thought so!
get your friends/workmates together and contact Tilde to book one or more lessons now.
Lessons are every Tuesday or Thursday from 6pm to 8pm.