Biking In The Hills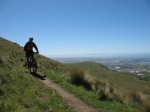 Sumner caters for both road cyclists and mountain bikers, and the options can be linked together. You can disappear for hours should you want to!
for a detailed map please visit the council site here.
Single-trail mountain bike trail from the top of Evans Pass all the way to Godley Head, with the option of returning the same route and ending up with a short fast fun 250m plus descent on the road, or you can divert off-road for a tricky downhill to Taylors Mistake, with a sharp climb out just when you are really feeling tired. (Allow 1 – 2 hours or even more).
Road or mountain bike along the Summit Rd – many climbs but just as many downhills. In many places there is an off-road option just below the road.
"Short Bays" road route – Sumner, stay on Christchurch side of hills round to Dyers Pass and then go up and over Dyers Pass, through Governors Bay, round to Lyttelton and back to Sumner (1.5 hrs for a very fit cyclist).
>>—-> Please do not leave any rubbish behind!
Photos are by Zane and Dave Gandy!
#cycling #downhill #biking #taylors mistake #sumner